As an Amazon Associate I earn from qualifying purchases. Please see my Privacy Policy for more details.
These Vegan Chickpea Desserts are delicious, high protein, healthy, sweet recipes featuring the versatile legume – chickpeas! No one will know there are beans in there!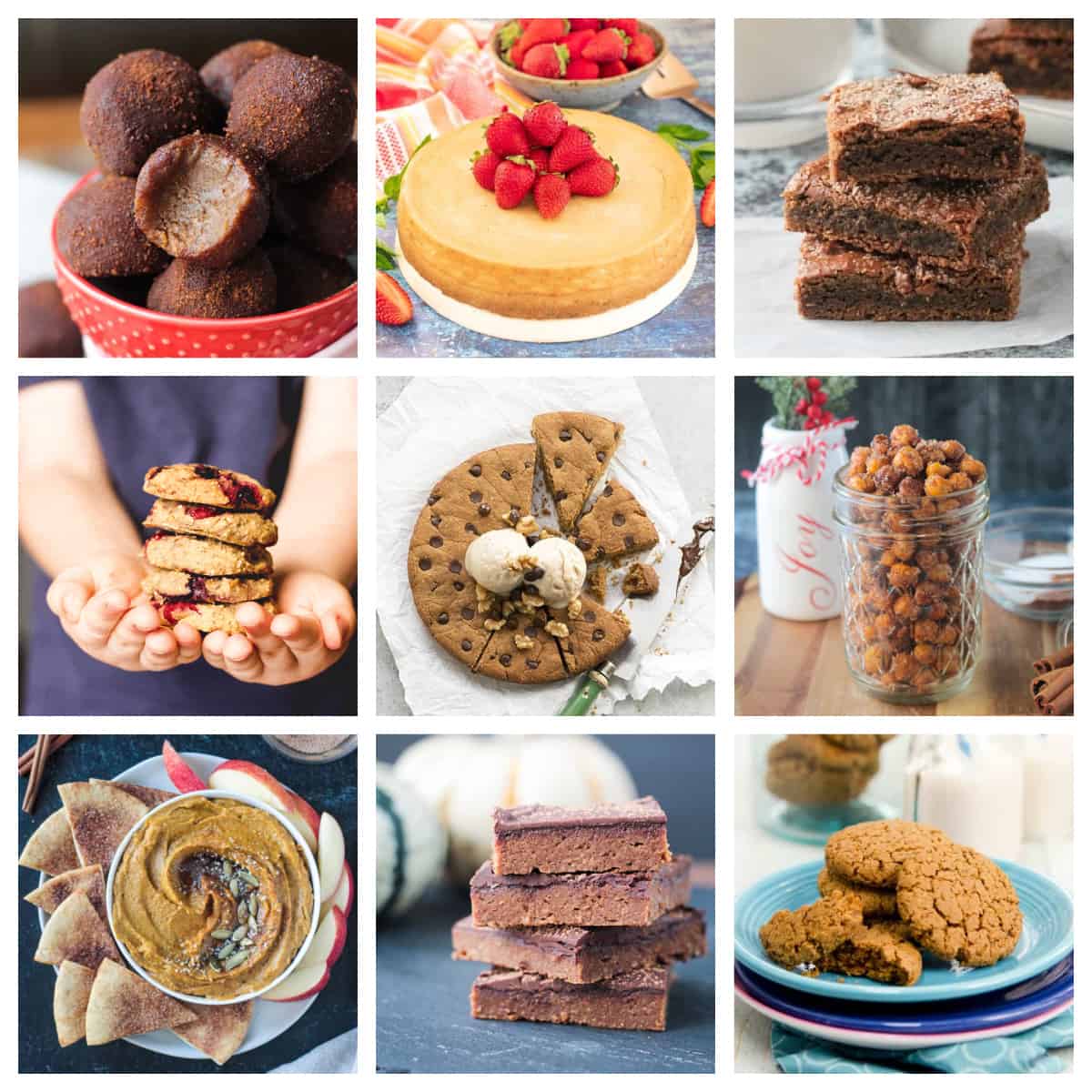 Although I love using chickpeas in savory recipes to bulk up the protein, we're talking all things sweet today!
I've asked some of my favorite blogging buddies for their best sweet vegan dessert recipes using the humble chickpea.
You're gonna love these chickpea desserts!
Chickpeas, also called Garbanzo Beans, are a versatile legume. They're small in size, but big in nutrition. Full of protein, fiber, folate, and iron, chickpeas are an inexpensive ingredient you should always have in your pantry.
Whether precooked from a can or dry beans cooked from scratch, their nutty flavor and creamy texture lend well to not only hummus, but sweet dessert recipes as well.
Don't forget to save the liquid from a can of chickpeas (or the liquid from cooking the beans from scratch) – this bean liquid is called aquafaba and can be used in place of eggs in many recipes, like my Chocolate Chip Zucchini Bars, Chai Spiced Layer Cake, and my Healthy Peanut Butter Banana Bread.
FAQs
What do chickpeas replace in baking?
Blended chickpeas can be used to replace some, or sometimes all, of the flour in a recipe. Aquafaba, the liquid from a can of chickpeas, is often used as an egg or oil replacement.
Is baking with chickpeas healthy?
Desserts, whether vegan or not, should be eaten in moderation. While plant-based versions, like these chickpea desserts, may provide more nutrients than your average sweet treat, they may be high in fat and generally still contain a sweetener of some kind. Even unrefined sweeteners should be limited.
Having said that, everyone needs to quiet their sweet tooth every now and then and reaching for a vegan version definitely makes me feel better about my choices overall.
Do you need to peel chickpeas from a can?
Nope! If I'm making roasted chickpeas I will remove the loose skins I see as they have the potential to burn. But, if you're blending the chickpeas to add to a recipe, the skins will blend right up as well.
Sweet Chickpea Desserts
Here are the BEST sweet chickpea recipes!  They are delicious, high protein, healthy, vegan dessert recipes featuring the versatile and humble legume – chickpeas!