As an Amazon Associate I earn from qualifying purchases. Please see my Privacy Policy for more details.
Pasta is inexpensive, convenient, and versatile making it a favorite meal amongst adults and kids alike. In this article you'll find everything you need to know about buying and cooking pasta, plus the Best 30 Minute Vegan Pasta Recipes you should make for dinner tonight!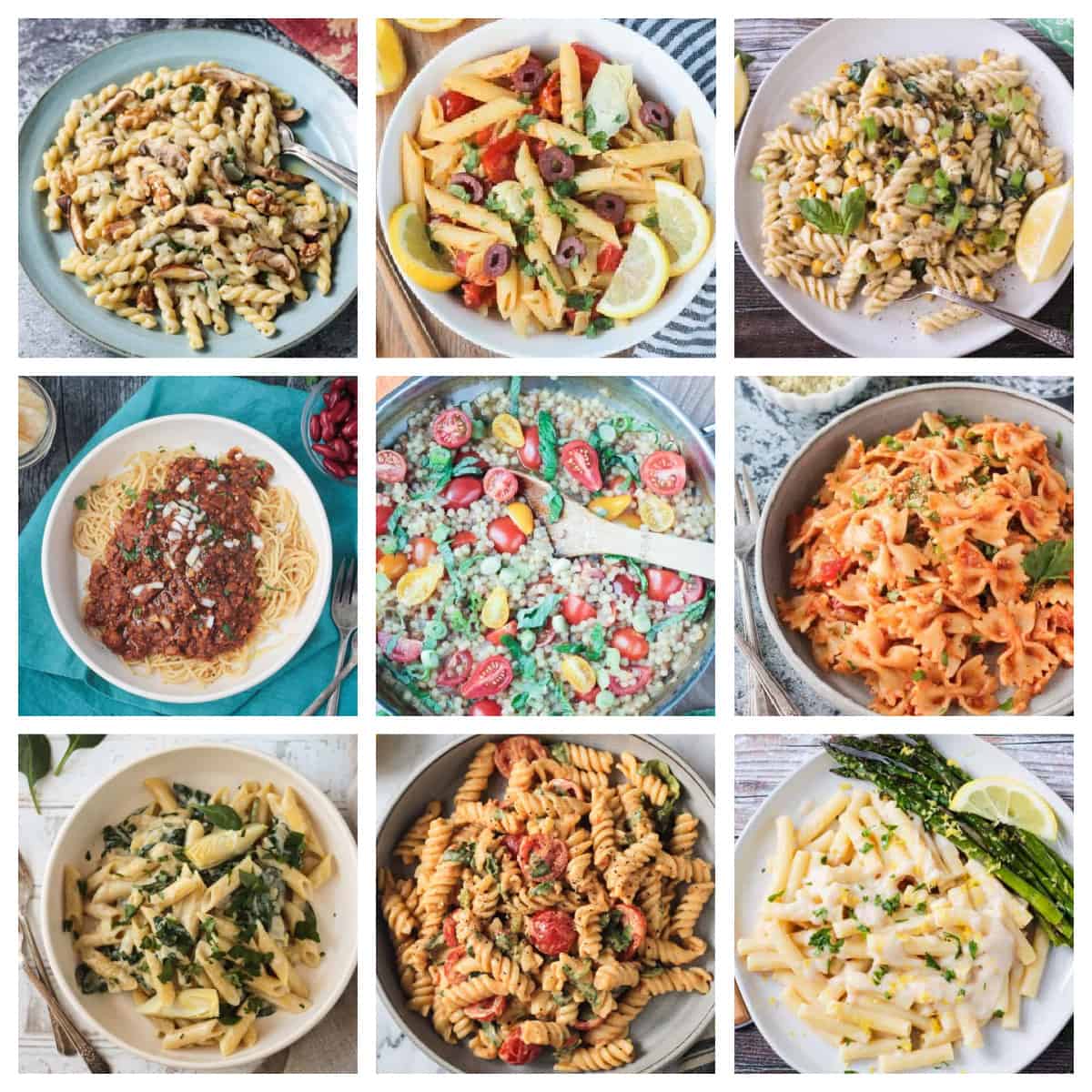 Vegan pasta recipes are my go-to whether I'm short on time, the kids are being picky, or we are just craving delicious comfort food. It's always a winner in this house.
If you want your kids (or spouse!) to eat more veggies, put them in pasta! Who can say no to pasta?
Check out all the quick and easy vegan pasta recipes below – they can all be made in 30 minutes or less – then share your faves with family and friends because they need to be in the know, too!
Varieties of pasta
There are so many different varieties of pasta (over 300!), there is certainly something for everyone!
I can't possibly go over all of them today, but here's a run down of some of the most popular and how to choose the right shape for your vegan pasta recipes.
Long pasta shapes
Some of the most popular long thin pasta shapes are spaghetti, capellini, and angel hair. They pair well with tomato based or olive oil based sauces.
Long flat pasta shapes, like fettuccine, linguine, and tagliatelle are typically paired with simple cream sauces.
Long wide pasta, like pappardelle, pair well with hearty, chunky sauces.
Short pasta shapes
Short tube pasta shapes, like penne, ziti, rigatoni, and macaroni, are some of the most common and versatile. They are great paired with almost any kind of sauce. Try them with tomato sauce, pesto, dairy free cheese sauce, or primavera. They're also great in salads, soups, and baked dishes.
Short pasta shapes without tubes like, farfalle (bowties), gemelli, fusilli, and rotini, can stand up to hearty sauces and/or chunky vegetables.
Although certain shapes work best with certain sauces, there are no hard and fast rules. Get creative and use what you like!
Large pasta shapes
Large pasta shapes, like lasagna, jumbo shells, and manicotti, are suited for layering and stuffing and are typically used in baked casserole dishes.
Gluten-free pasta
If you follow a gluten free diet you're in luck! There are many varieties of gluten free pasta on the market today, most of which are also vegan. You'll find pasta made from chickpeas, lentils, brown rice, corn, and more.
My family's favorite gluten free pasta is the Tinkayada brand made from brown rice. It comes in several different shapes and we think the taste and texture is identical to the wheat pasta we are used to.
Jovial is another good brand made from whole grain brown rice.
We've also had good luck with a few brand using a corn and rice blend.
You can almost always substitute gluten free pasta in any recipe that calls for regular wheat-based pasta.
How to cook dry pasta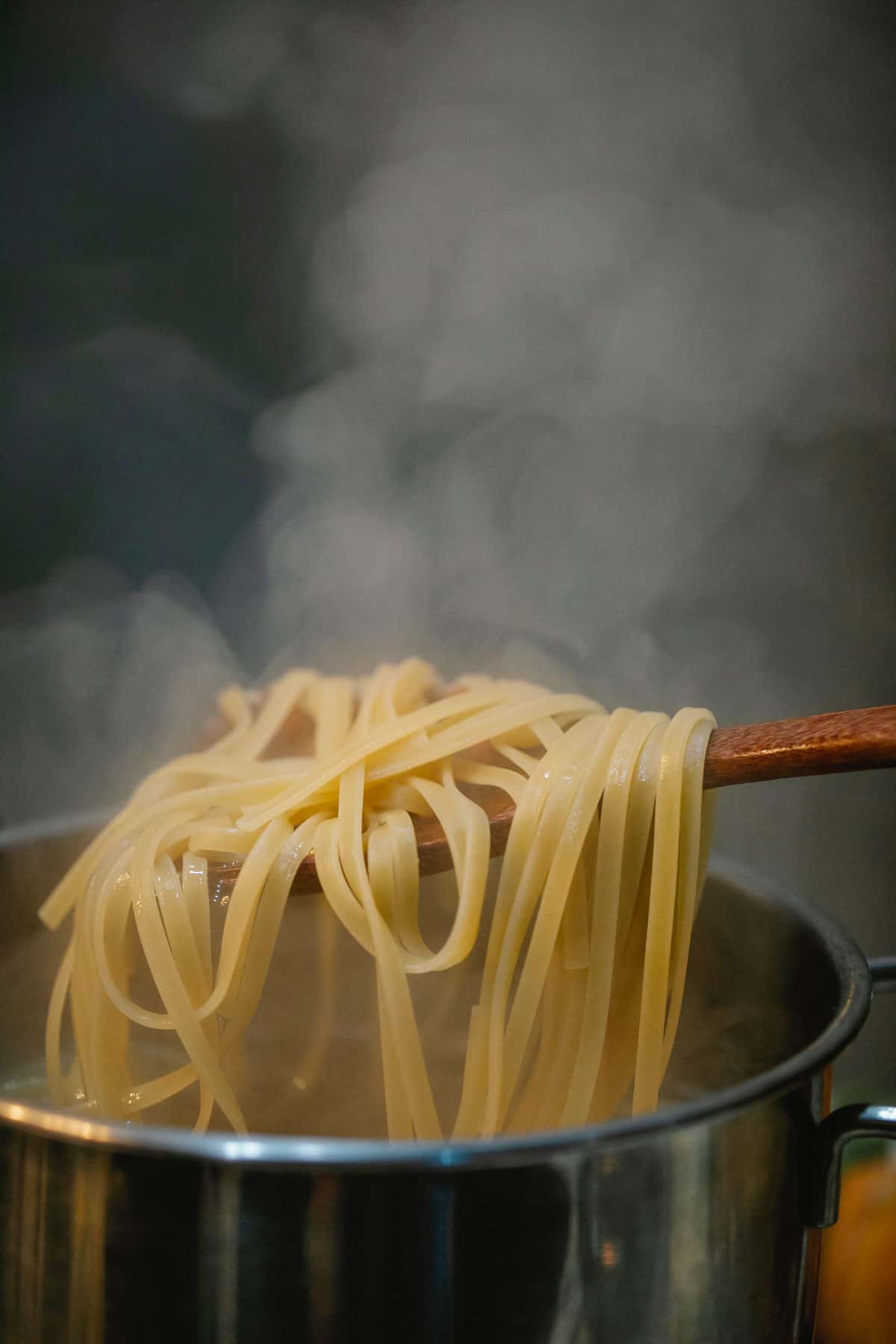 For one pound of pasta, bring 4 to 6 quarts of water to a rolling boil.
Stir in 1 to 2 tablespoons of salt (1 tablespoon for fine salt and up to 2 for coarse salt).
Drop in the dry pasta and stir immediately to prevent clumping.
Cook until al dente ("to the tooth"), meaning it's tender, but still has a bite to it. Stir frequently during the cooking process to prevent sticking.
Turn off the heat and drain immediately once the pasta has reached the al dente stage.
Alternately, you can transfer the cooked pasta directly from the cooking pot to the sauce pan using a spider utensil. I highly recommend this method with gluten free pasta as it tends to stick and clump in a colander after draining.
How to serve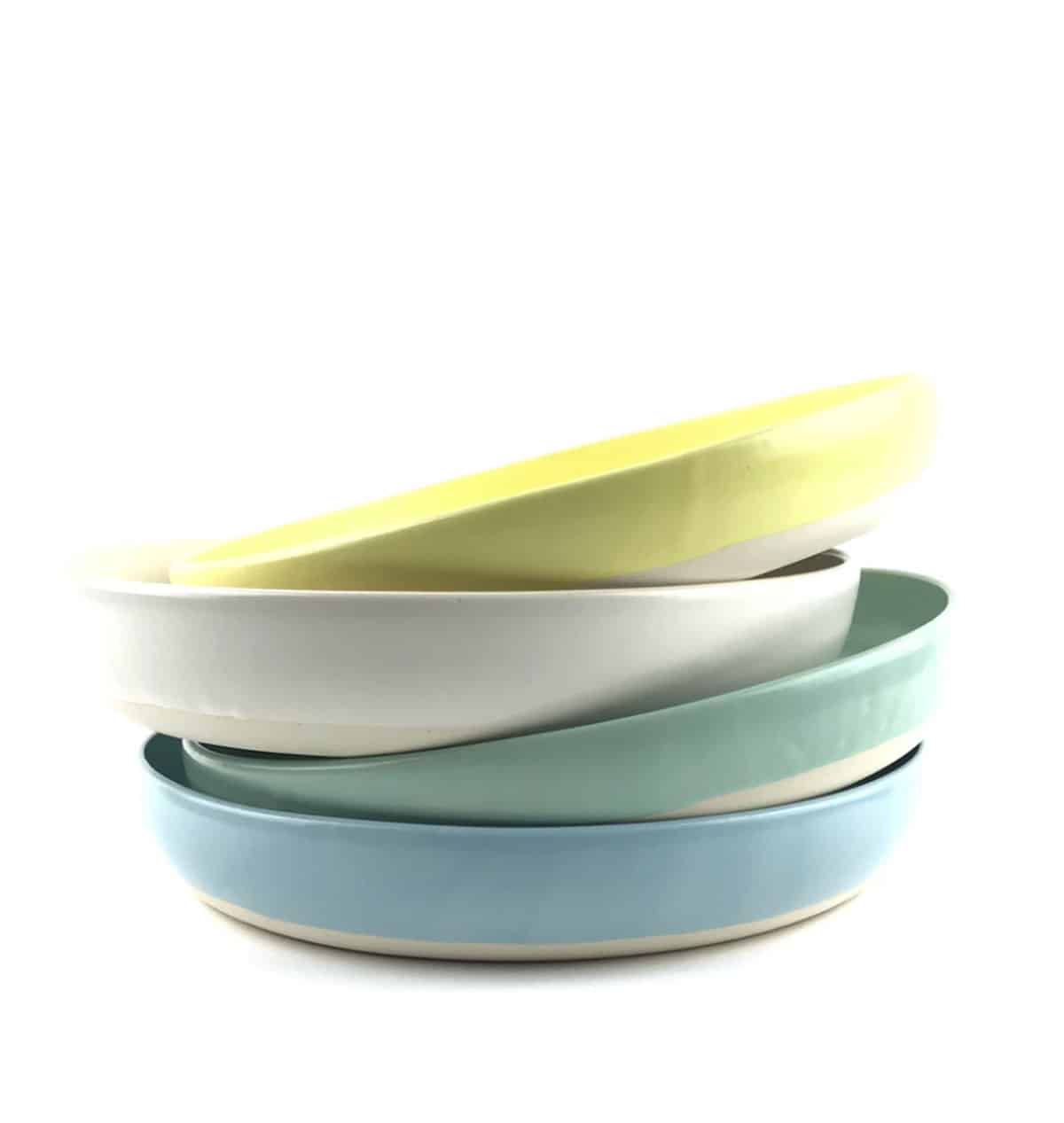 I have found that saucy pasta does best in flat bowls. Flat bowls are like a hybrid between a plate and a bowl. The main surface area is large and flat like a plate, but the sides are tall like a bowl.
The flat bowls prevent spills from happening and helps to keep the sauce from draining away from the noodles.
Our favorite flat bowls are from Off Your Rocker Pottery. They are gorgeous and come in a variety of colors. They're also microwave, oven, and dishwasher safe! You can get some for yourself at 15% off by using code "VeggieIns."
And don't forget to complete your meal with a side salad, crusty loaf of vegan garlic bread, and a sprinkle of vegan parmesan cheese!
Pasta salads and soups
This article is focusing on vegan pasta recipes served hot that are perfect for lunch or dinner, but of course pasta is terrific in cold pasta salads and comforting soups, too. Here are a few of our faves:
Storage and freezing
Pantry: Unopened dry pasta will keep in your pantry for up to 2 years. An opened box of dry pasta will last about a year.
Fridge: Store cooked pasta without sauce in an air-tight container or sealed plastic bag in the refrigerator for 4 to 5 days.
Freezer: You can also freeze cooked pasta for up to 3 months.
Note: You can also store pasta with sauce in the fridge or freezer, however, the pasta will continue to soak up the sauce and my become a bit mushy upon reheating. In the fridge for a couple days shouldn't make much of a difference, but the texture will be more noticeable after freezing pasta with sauce for longer periods of time.
Pro tips and tricks
~ Cook dry pasta in a large pot with lots of water, 4 to 6 quarts for 1 pound of pasta.
~ Bring the liquid to a rolling boil before adding salt and pasta.
~ Cook the pasta in well-salted water. At least 1 tablespoon of salt for 1 pound of pasta in 4 to 6 quarts of water. If you are using a coarse salt, a little more salt may be needed, up to 2 tablespoons.
~ Stir the pasta immediately after dropping it in the water to prevent clumping. Stir frequently throughout the cooking processes to prevent the pasta from sticking to the pot or each other.
~ Keep the water boiling as the pasta cooks.
~ Cook the pasta until al dente. Check it early to avoid overcooking.
~ Turn off the heat and drain in a large colander or transfer straight into the sauce using a spider utensil.
~ Store leftover pasta separately from the sauce for best results.
FAQs
Which pasta is vegan?
Most store-bought, shelf stable, packaged pasta is vegan. Of course, you'll want to check the ingredient list to be sure.
Fresh pasta is generally made with eggs, so you'll want to steer clear of those varieties.
While you may be able to find some filled pastas, like ravioli and tortellini, that are vegan, the majority of them contain dairy and sometimes meat, as well. Always read labels and check the ingredients to confirm.
Is pasta healthy?
Pasta can definitely be part of a healthy balanced diet. Try to choose whole grain varieties for increased fiber and nutrients. There are also many gluten-free options on the market today that are also vegan.

What is a serving of pasta?
One serving of pasta is typically measured at 2 ounces before cooking. However, in real life, I find that my family typically eats more than this. Adding vegetables and sauce to the dish will help bulk up the meal if you want to try to stick to the 2 ounces per serving rule of thumb.
Can pasta be frozen and reheated?
Yes, vegan pasta recipes can generally be frozen and reheated. Most pasta dishes will keep in the freezer for 2 to 3 months and can be reheated int the microwave or oven. Follow the instructions on individual recipes for more specifics.
Can pasta be made ahead?
Most of the time, yes, pasta can be made ahead of time. Store pasta and sauce separately for best results unless directed otherwise in specific recipes.
More 30 minute vegan meals
I hope you love these recipes as much as we do! If you tried any of them, please leave a comment below with your feedback.

Be sure to sign up for my FREE Newsletter to be the first to get my NEW recipes! You can also follow me on Instagram, and Facebook.

For even more easy family recipes, be sure to check out my cookbook, The Meatless Monday Family Cookbook!
A collection of 30 minute vegan pasta recipes that your whole family will love! Perfect for easy lunch or dinners.