As an Amazon Associate I earn from qualifying purchases. Please see my Privacy Policy for more details.
Vegan Quesadilla with pumpkin, apples, and caramelized onions – a little creamy, a little crispy, a little sweet, a little smoky, and even a little spicy, if desired. A little piece of fall heaven!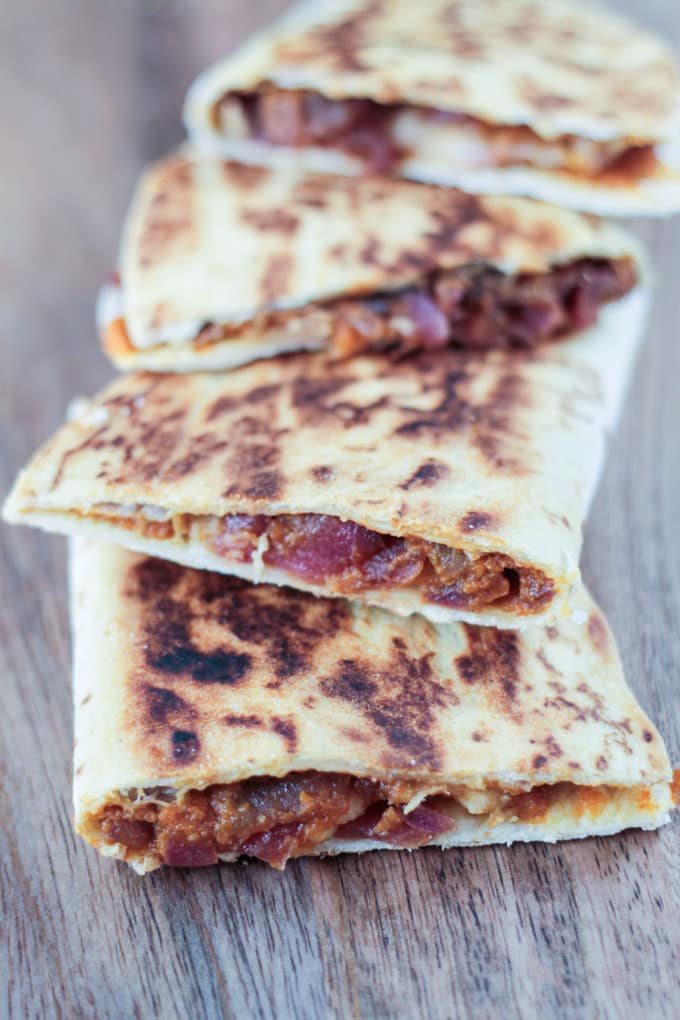 I make quesadillas so often, it's actually quite surprising that I only have one quesadilla recipe on the blog.
I think because I usually use them as a way to repurpose leftovers instead of creating a brand new recipe, it doesn't really cross my mind to feature it here. I need to change that…food for thought.
This quesadilla recipe, however, is from scratch and features several fall goodies. It's a little crunchy, a little creamy, a little sweet, a little smoky, even a little spicy if desired.
You gotta try a Pumpkin, Apple and Caramelized Onion Vegan Queasadilla!
Caramelize Those Onions!
Generally, when I make quesadillas, it's because I'm short on time and I can throw one together in just a few minutes.
Admittedly, this one isn't the quickest recipe.
The onions take about 30 minutes to caramelize, but it's so worth it!
I'm not even an onion fan in general. I add them for flavor to lots of things, but I don't like to take a big bite into one. But when you caramelize them until they're all sweet and tender and then add some balsamic vinegar (which I love so much I could practically drink the stuff!), they are the stuff dreams are made of! Are you with me?
Sweet and Spicy Pumpkin Purée
Originally, my plan was just for an apple and caramelized onion quesadilla, but it just wasn't enough. It needed a creamy factor to pull it all together.
I saw the can of pumpkin puree in the pantry and I thought to myself, (or more likely said out loud as I do like to talk to myself) "why not?".
I doctored it up with some spices and a little maple syrup to balance it all out. Put it all together with the caramelized onions and some tart apple slices into a tortilla and crisp it all up…mmmmmmm, finger lickin' good!
Soup and Sandwich
On this particular day, I served it alongside my Creamy Tomato Soup, which ironically was sort of the inspiration for this quesadilla recipe. I really wanted the soup for lunch and I wanted something to go with it.
Grilled cheese obviously goes perfectly with tomato soup, but I didn't have any vegan cheese slices and this concoction of apples and onions somehow snuck into my head.
By the way, the Creamy Tomato Soup can be made in less than 3o minutes, so if you want to eat these together like I did, start the soup after you get your onions going and it should all be ready around the same time.
I hope you love this recipe as much as we do! If you tried it, please use the rating system in the recipe card and leave a comment below with your feedback.

Be sure to sign up for my FREE Newsletter to be the first to get my NEW recipes! You can also follow me on Instagram, Facebook, and Pinterest.

For even more easy family recipes, be sure to check out my cookbook, The Meatless Monday Family Cookbook!
Pumpkin, Apple and Caramelized Onion Vegan Quesadilla
A little creamy, a little crispy, a little sweet, a little smoky, and even a little spicy if desired, these vegan quesadillas are a little piece of fall heaven.
Print
Rate
Ingredients
2

onions

(I used 1 sweet white onion and 1 red onion), sliced thin

¼

cup

vegetable broth

(plus more as needed)

2

tbsp

balsamic vinegar

1

cup

pure pumpkin puree

2

tsp

pure maple syrup

½

tsp

chili powder

¼

tsp

smoked paprika

¼

tsp

crushed dried rosemary

pinch of cayenne

(optional for heat)

1

apple

(sliced thin)

4

medium tortillas

(gluten free, if desired)
Instructions
In a large skillet (I used non-stick) on the stove, heat

¼ cup

vegetable broth over medium heat.

Add the sliced onions and cook for about 30 minutes, stirring every 5 minutes or so, until dark and caramelized. You may need to add an additional

1-2 tbsp

of vegetable broth if the onions start to stick too much. As they cook down, try to keep them in one even layer. If it's ok if they overlap a little, but you don't want a too high of a mound of onions because then they will simply steam and not caramelize.

In the meantime while the onions are cooking, in a small bowl, stir together the pumpkin, maple syrup, chili powder, smoked paprika, rosemary and cayenne, if using. Set aside.

When the onions are caramelized, turn off the heat and add the balsamic vinegar. Stir to coat.

Take one tortilla and lay it flat. Spread ¼th of the pumpkin mixture all over the whole thing. Place ¼th of the onion mixture over one half of the pumpkin puree. Add the sliced apple on top of the onions. Fold the half of the tortilla that only has pumpkin on it over the other half and set aside. Continue with the remaining tortillas in the same way.

Heat a skillet over medium heat (I did a quick wipe with a paper towel of the one I used for my onions). Spray it with a little cooking spray, if necessary, and place the folded tortillas in the pan. Do not overcrowd the pan. I only fit two at a time. Cook for a few minutes on each side until brown and crisp. Repeat with any remaining tortillas.

Serve warm.
Nutrition
Calories:
161
kcal
|
Carbohydrates:
36
g
|
Protein:
3
g
|
Sodium:
154
mg
|
Potassium:
254
mg
|
Fiber:
6
g
|
Sugar:
18
g
|
Vitamin A:
7700
IU
|
Vitamin C:
13.2
mg
|
Calcium:
80
mg
|
Iron:
1.6
mg