As an Amazon Associate I earn from qualifying purchases. Please see my Privacy Policy for more details.
Vegan Pancakes – a roundup of the best vegan pancake recipes from some of my favorite bloggers. All dairy free and egg free. Some gluten free, some refined sugar free, some nut free, some oil free. All delicious!
All the pancakes you could ever want for Pancake Day! Pancake Day, or Shrove Tuesday, or Mardi Gras, or Fat Tuesday – is a day for indulgence. It falls on the day before Ash Wednesday, when the Lenten season starts. Lent is a time for fasting, so it's become a tradition to eat up all the rich foods before.
While you won't find any rich foods like dairy milk or eggs in these recipes, they are just as delicious as their traditional counterparts. You're definitely going to want to bake up a batch today!
More Vegan Recipes Collections you'll love!
Best Vegan Pancakes
Orange Cinnamon Pancakes by Wallflower Kitchen
Peaches and Cream Dairy Free Pancakes by Veggie Inspired
Fluffy Quinoa Pancakes by Feasting on Fruit
Vegan Cinnamon Roll Pancakes by From My Bowl
Fluffy Vegan Pancakes w/ Spiced Apple Compote by Veganoisty
Strawberry Protein Pancakes by Healthier Steps
Ultimate Vegan Fluffy Pancakes by The Vegan 8
Peanut Butter Pancakes w/ Maple Peanut Butter Syrup by Veggie Inspired
Fluffy Vegan Buttermilk Pancakes by Vegan Blueberry
Vegan Chocolate Chip Pancakes by My Darling Vegan
Vegan Sweet Potato Pancakes by A Virtual Vegan
Rainbow Pancakes by Seitan Beats Your Meat
Vegan Banana Milk Pancakes by Where You Get Your Protein
Lemon Poppyseed Pancakes by Veggie Inspired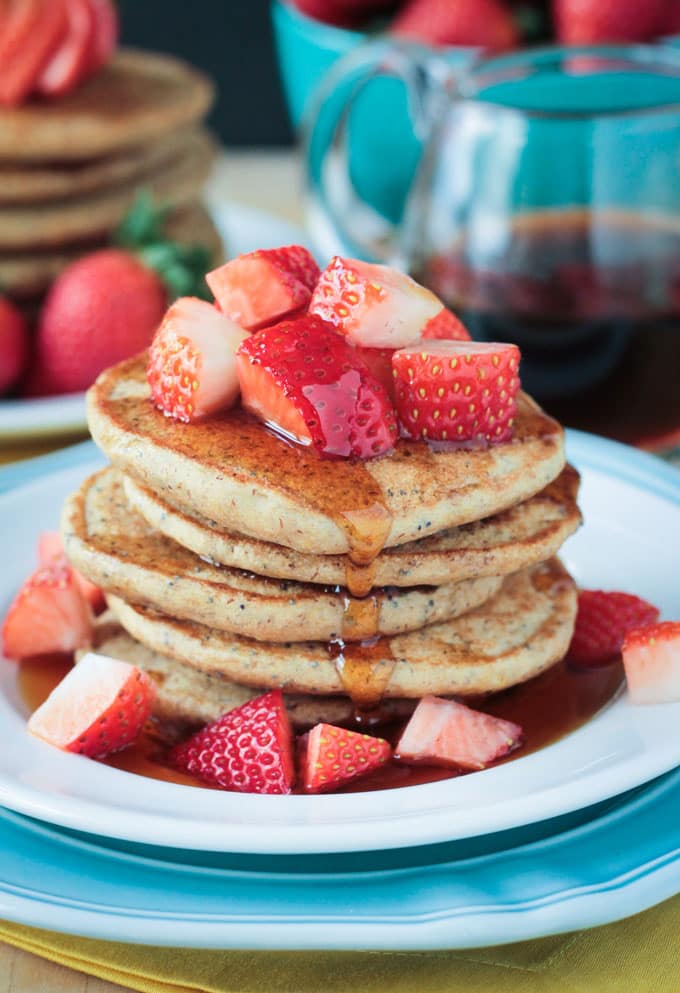 Sweet Cream Protein Pancakes by Spabettie
4 Ingredient Blender Pancakes by Unconventional Baker
Gluten Free Pumpkin Pancakes by Delightful Adventures
Vegan Chia Seed Pancakes by Running on Real Food
Gluten Free Banana Oat Blender Pancakes by Kitchen Treaty
Gluten Free Buckwheat Pancakes by Veggie Inspired
Vegan Ricotta Blueberry Pancakes by Contentedness Cooking
Caramelised Banana and Hazelnut Pancakes by Anna Banana
Vegan Chocolate Peanut Butter Pancakes by Elephantastic Vegan
Gluten Free Vegan Pink Pancakes by Made By Luci
Vegan Cinnamon Roll Pancakes by Vegan Richa
Whole Wheat Flax Pancakes by Veggie Inspired
Gluten Free Chocolate Protein Pancakes by The Plant Philosophy
Double Chocolate Pancakes by Allergylicious
I hope you love these Vegan Pancake recipes as much as I do! Please share and spread the love! And, of course, go make them! Enjoy!