As an Amazon Associate I earn from qualifying purchases. Please see my Privacy Policy for more details.
Vegan Appetizers – This roundup of deliciousness will ensure your next party is a huge success. Easy one bite snacks, flavorful dip and spreads, and stuffed all-the-things. Perfect for New Year's Eve, Game Day, or any other party theme you can think of. Suitable for anyone who loves to eat – not just vegans! Let's get our party on!
Vegan Appetizers: Dips and Spreads
Smoky Cilantro Lime Mexican Bean Dip – always a hit at parties. It's prefect with chips!
Vegan "Pub Cheese" Dip – spruce up any appetizer party platter with this smoky, sharp cheddar flavor and be sure to dip generously! From Healthy Happy Life
Beetroot Hummus – super healthy, crazy delicious, and stunning color to wow your guests! From Trinity's Conscious Kitchen
Vegan French Onion Dip – the perfect thing to cure your munchies! Pair it with chips, crackers or raw vegetables. Made with whole food ingredients and two whole onions!
Baked Vegan Buffalo Cauliflower Dip – ultra creamy, full of protein, super healthy, and going to blow your mind! From Veggies Don't Bite
Olive Hummus – for all of you olive lovers out there, this combination of ingredients is a match made in heaven. From Contentedness Cooking
Creamy Cranberry Salsa Dip – creamy, sweet, tangy, and a little spicy. If you're not quite ready to let go of the Christmas season, it's the perfect New Year's Eve appetizer.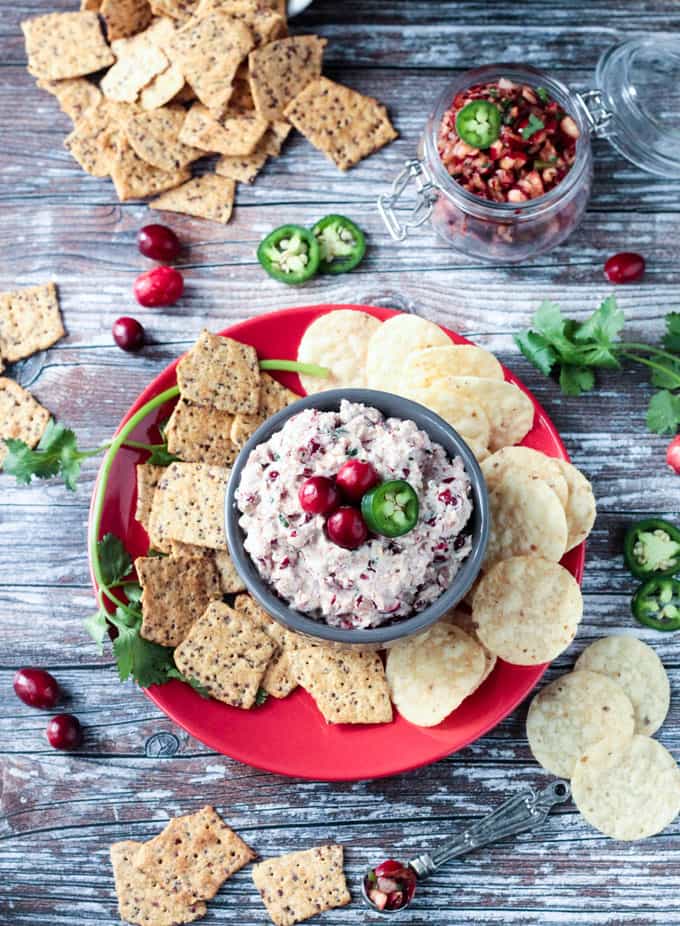 Fermented Vegan Walnut Thyme Cheese – taking vegan cheese to the next level! With just minutes of hands-on prep time, this tangy nutty "cheese" is quite easy to make. From Tasting Page
Homemade Vegan Queso – this nacho dip is creamy and "cheesy", but dairy free, oil free, and made from whole foods. Grab a bag of tortilla chips and get to dipping!
Vegan Spinach Artichoke Dip – absolutely NO mayo, cheese, cream cheese, or sour cream, but it's just as decadent. Get your dip on! From Glue & Glitter
White Bean Dip – quick and easy to make with cannellini beans, tahini, lemon juice, water, and oregano. Bonus – it's gluten free and oil free too! From Veggies Save The Day
Vegan Ceviche – with lots of fresh dill and grapefruit juice. It's a flavor combo you've got to try!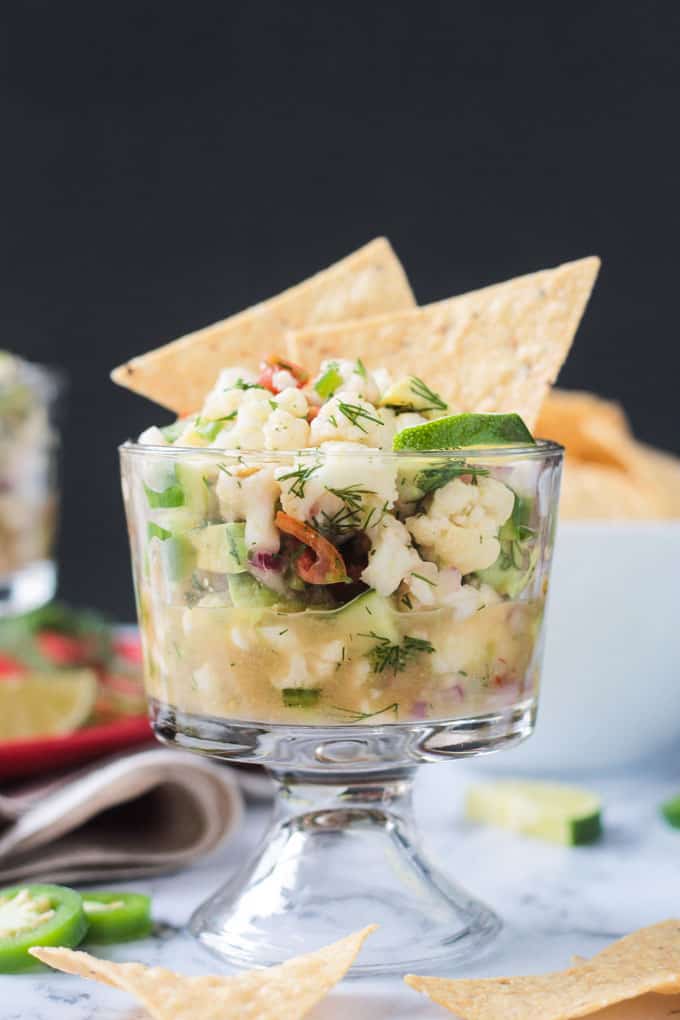 Beet Tartare w/ Cashew Cheese – a spread of creamy and citrusy cashew cheese topped with sweet, balsamic roasted beets. Serve it with warm baguette slices or your choice of crackers. From My Darling Vegan
The BEST Guacamole – quick, easy and loaded with nutrients. What party is complete without guacamole? Grab some chips and dig in!
Olive Tapenade – sun dried tomatoes and artichokes join chopped olives, capers, and olive oil in this super simple dip perfect for a party tray. From Fried Dandelions
Miso Parsley Hummus – a tasty light snack or appetizer paired with crackers or fresh veggies. Bonus: it's oil-free!
Vegan Appetizers: Small Bites
Vegan Polish Mistakes – easy party appetizers served on cocktail rye toasts with mounds of meat and cheese. And my version is all VEGAN! This is one snack that will please even the carnivores in your life.
Easy Vegan Bruschetta – a fuss-free easy appetizer for entertaining that will keep your guests coming back for more. Customize the toppings to your liking.
Spiced Rosemary Roasted Nuts – delicious, crunchy nuts flavored with herbs and spices and roasted to perfection. A little sweet, a little spicy. Excellent for parties, the holidays, or any time you need to cure a snack attack.
Almond Crusted Tofu Bites – crunchy little bites dipped into a creamy lemon ginger dip make the perfect party food. From Veganosity
Cheesy Quinoa Bites – instead of using baguette slices to hold all of your toppings, try these nutritious and protein packed quinoa bites. You'll find a nut-free option in the recipe as well! From Go Dairy Free
Tortilla Rollups w/ Dairy Free Cream Cheese – packed with fresh raw vegetables these make the perfect appetizer. Perfect finger food for kids too!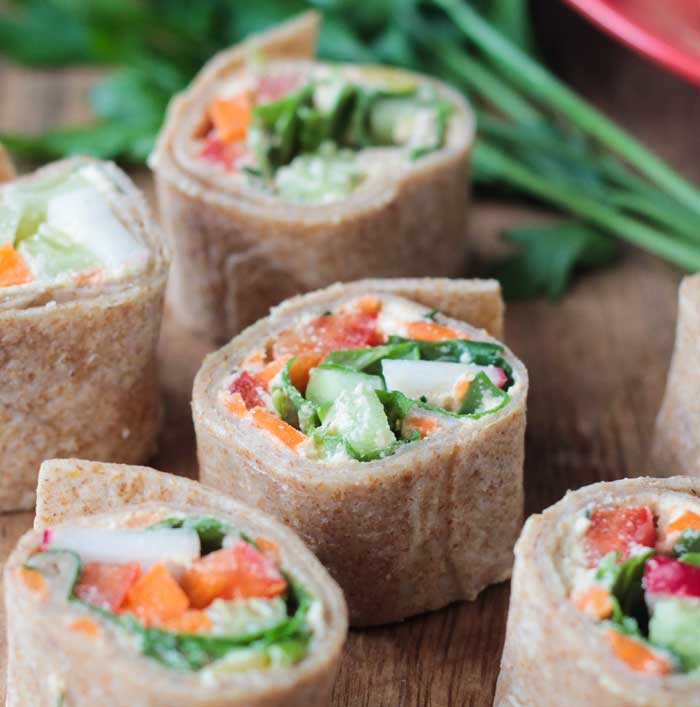 Tomato Tartlets – filled with spinach pesto, they're the perfect party treat. Your omnivore friends probably won't even realize that they're vegan! From Dianne's Vegan Kitchen
Mushroom Crostini w/ Garlic Basil Ricotta Spread – This party favorite uses a delicious tofu-based basil vegan ricotta spread, and is topped with a savory mushroom mixture for the perfect bite-size appetizer! From Vegetarian Gastronomy
Buffalo Quinoa Balls – a great meatless option to get that hot sauce fix. Perfect to give your party a little kick! From VNutrition
Miso Glazed Eggplant Scallops – these could easily be a main meal paired with lentils or rice, but they also make perfect (and creative!) little bite size hors d'oeuvres. From Sunnyside Hanne
Pesto Pizza Bites – quick and easy, these little pizza bites are full of fresh flavor. A party favorite!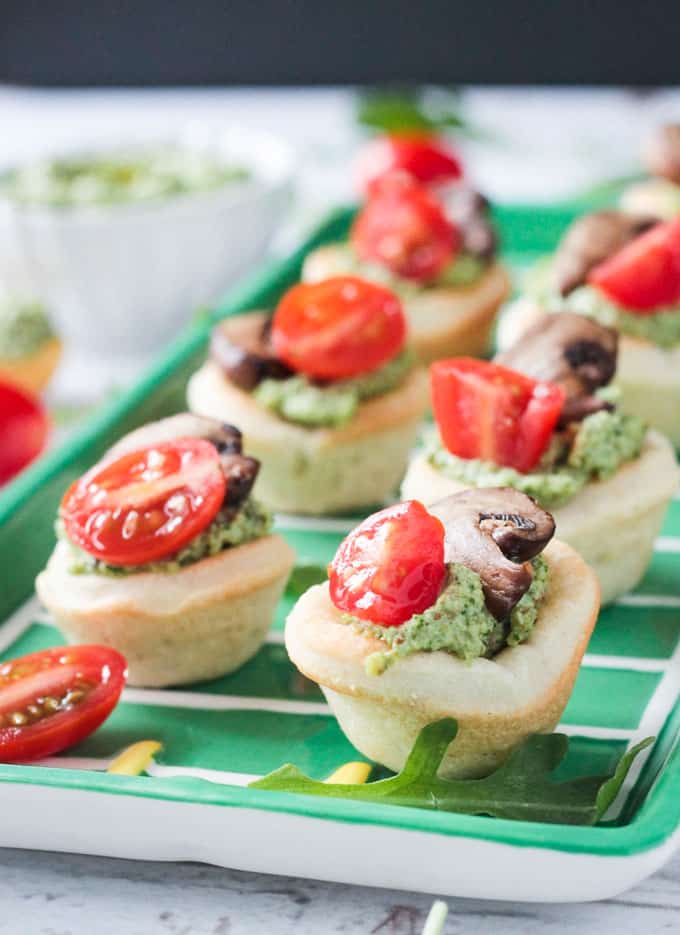 Fried Chickpea Flour Sticks – with just one ingredients plus salt, pepper, and water, this traditional Italian recipe is super easy to make! From Sweet Sensitive Free
Dilly Smashed Baby Potatoes – Take the humble potato to a whole new level. Roasted, smashed, then roasted some more. They're irresistible. Serve warm with the accompanying horseradish sauce. From A Virtual Vegan.
Cucumber Bites filled with Sun Dried Tomato Spread – flavorful little one bite appetizers perfect for entertaining.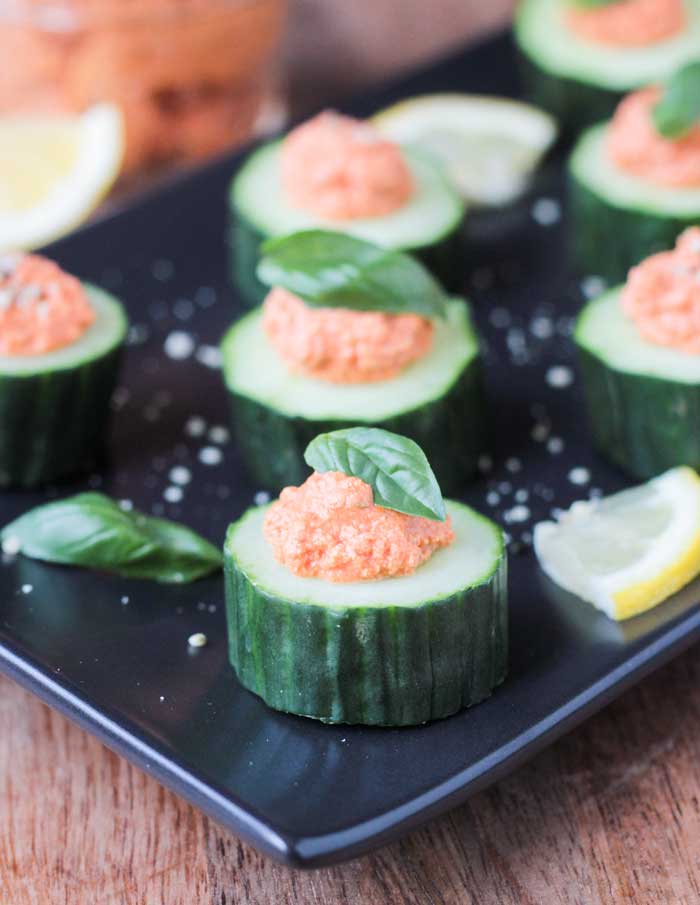 Sweet & Salty Vegan Soft Pretzel Bites – simple and easy to make, kid-friendly, party food that will satisfy that sweet & salty craving! From Where You Get Your Protein
Spicy Tortilla Rollups – layers of flavor starting with a spicy pesto base and ending with fresh baby spinach. Roll up tight, slice and pop in your mouth. From Vegan in the Freezer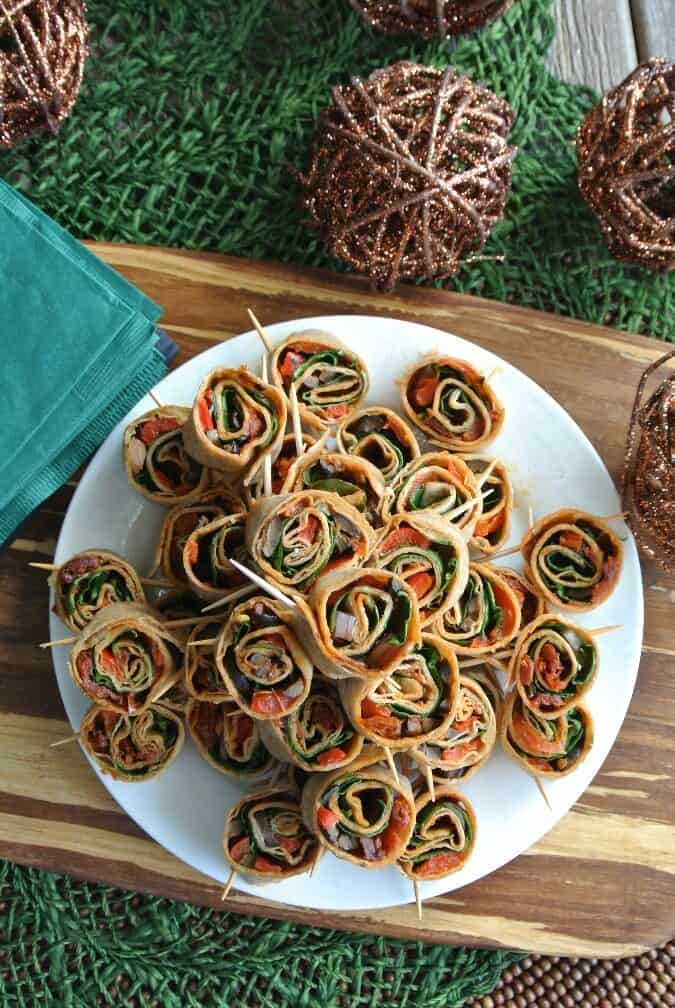 Vegan Cheese Sticks – crispy on the outside, ooey gooey on the inside! Time to bring the comfort food to your party! From Elephantastic Vegan
Smoky Sesame Avocado Crostini – Creamy avocado paired with roasted sesame seeds, a smoky pepper shake, sprouts and hot sauce make for a fancy-looking crostini that is a quick and delicious appetizer! From Vegan Yack Attack
Baked Italian Eggplant Dippers – crispy, crunchy and savory dipped in fresh marinara – the perfect small bite! From Triad To Wellness
Vegan "Fried" Ravioli – instead of frying in a vat of oil, these beauties are made in an air fryer. Dusted with a scant spritz of cooking spray, they are perfectly crispy and indulgent without being a heavy, oily mess. From Cadry's Kitchen
Vegan Appetizers: Stuffed and Wrapped
Crabless Stuffed Mushrooms – the filling has a crab-like texture and an ocean-like flavor that will really fool your omni friends. Topped with crispy panko breadcrumbs, these are sure to be a winner at your party! By Vegan Huggs
Baked Buffalo Chickpea & Artichoke Taquitos – a delicious, creamy, spicy snack that's great for parties. Easy to make them as spicy (or not) as you want.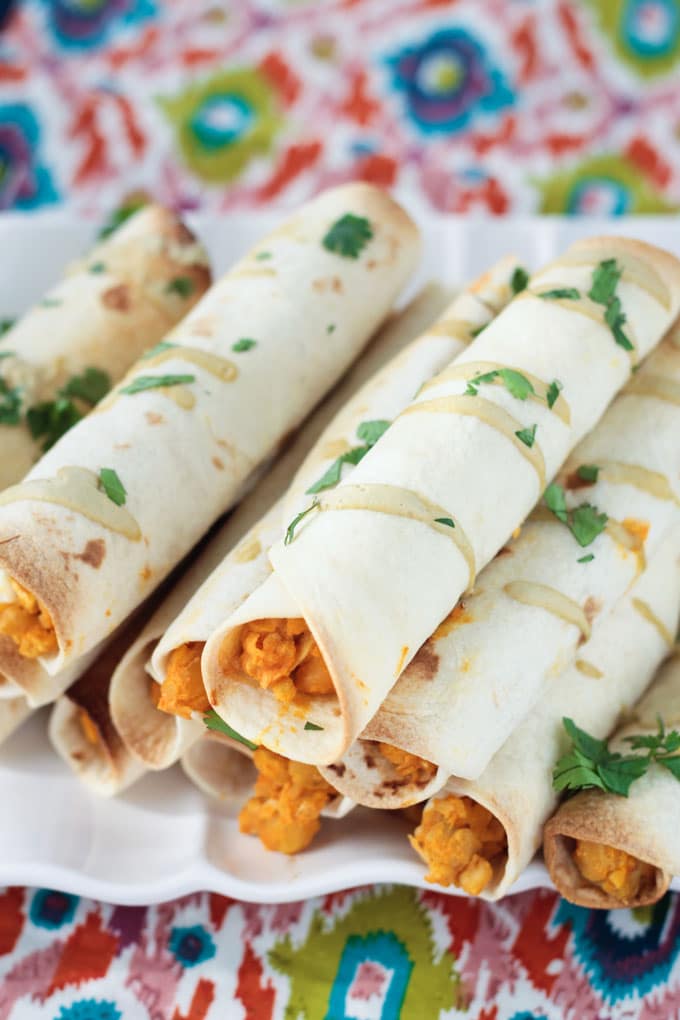 Vegan Stuffed Mushrooms – easy to make and packed with fresh herb-y, garlicky, citrus-y deliciousness. The addition of parsley-lemon dressing brightens the flavor and pulls it all together. From Cilantro and Citronella
Gluten-Free Vegan Sausage Rolls – equally delicious eaten hot straight from the oven as they are served cold. They're a fab make-ahead appetizer for parties and other gatherings. From Rhian's Recipes
Georgian Eggplant Rolls w/ Walnut Filling – you only need three ingredients and a bit of spices to make it! Great finger food for parties! From Happy Kitchen. Rocks
Vegan Zucchini Rolls – with cashew ricotta, mint, avocado and crushed almonds – your new favorite no cook appetizer. It's paleo too! From Avocado Pesto
Vegan Crab Rangoon – crispy fried wonton crusts with creamy, sweet, and slightly spicy centers will make your mouth water. From May I Have That Recipe
Raw vegetable Nori Wraps with Orange Ginger Miso Dressing – unique nori houses wonderful vegetables such as carrots, red pepper, avocado, and pea shoots all dipped and dressed in the flavors of miso and orange juice. From Sugar Loves Spices
Spicy Peanut Rice Stuffed Mini Peppers – make them as mild or as spicy as you like. An easy, fun appetizer for parties and get togethers of any kind.
Vegan Spanakopita – golden, crispy phyllo triangles stuffed with creamy spinach artichoke goodness. From The Mostly Vegan
I hope you loved this round up of amazing Vegan Appetizers. Please leave me a comment below letting me know which ones you want to try first. Cheers!