As an Amazon Associate I earn from qualifying purchases. Please see my Privacy Policy for more details.
No backyard cookout, BBQ, picnic, or potluck is complete without a slew of side dishes to round out the meal. These vegan side dishes are so delicious, I've been known to make a meal out of just the sides! From classics gone vegan to creative new flavors, check out these recipes to ensure your next gathering is super tasty!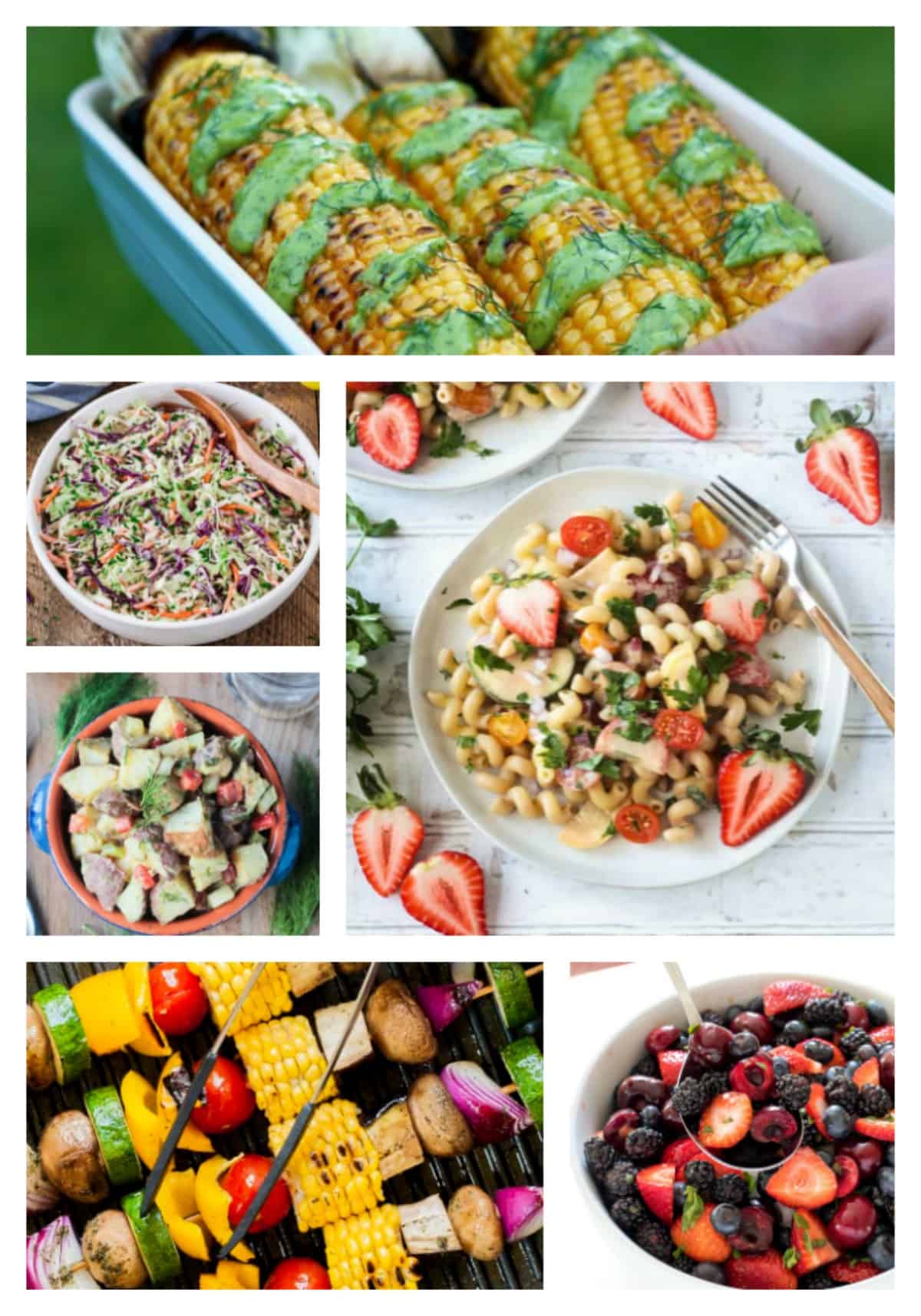 When it comes to backyard BBQs, the grilled stuff is generally the star of the show, but that doesn't mean the side dishes should be there just to take up the extra space on your plate.
With these super tasty vegan recipes, your guests, herbivores and omnivores alike, will be going back for seconds on the side dishes instead of the main course!
What makes a good BBQ side dish?
Ideal vegan side dishes for backyard cookouts have these qualities:
can be made rather quickly and easily
can be made, or at least prepped, ahead of time
can easily be scaled up (or down) to feed a crowd
can sit out for an hour or two without wilting or going rancid
travels well (in case you are a guest and not the host)
How to transport potluck food
If you'll be bringing your side dish with you to a party, you'll want to make sure it arrives to your destination safely.
*Make sure everything is tightly covered in containers with locking lids.
These come in a variety of sizes with small ones perfect for dips and sauces to larger ones great for veggies and sides.
This one is great for keeping salad ingredients separate from leafy greens until you plan to serve.
If you don't have containers with locking lids, try reusable bowl covers that fit to stretch any size container.
In a pinch, plastic wrap will do, just make sure it's pulled tight and maybe double it up to ensure it doesn't move. Or, depending on the food, consider transporting your food in a zipper lock plastic bags or large glass mason jars and transferring to a bowl upon arrival.
*Pack cold food with ice or frozen gel packs in a portable cooler.
*Keep hot food hot in an insulated carrying bag.
How to serve
For serving vegan side dishes, ensure the cold food stays cold by using chilled serving containers. These chilled mats are great for placing bowls of food you want to keep cold.
To keep hot foods hot, consider a multi serve slow cooker.
Pro tips for food safety
Food of any kind should only sit out for 2 hours maximum. If the temperature is above 90°F, then 1 hour is the limit.
Here are some helpful tips from the FDA regarding food safety.
FAQs
What is a side dish?
A side dish is any food served on the side as an accompaniment to the main course.
How do you pick a side dish?
Try to choose something that will complement the entrée. This could be similar or different flavors than the main dish. In season ingredients are always a good choice.

If your entrée is heavy, choose lighter options for the side. If your main dish is light, heavier dishes on the side would be appropriate.
How many sides should you serve?
There is no right answer here, but for something like a backyard BBQ, I would suggest 3 to 5 vegan side dishes. A good rule of thumb would be to have one featuring vegetables, one fruit based dish, and one starchy side (like rice, noodle or potato dishes). Then get fun and creative with 1 to 2 more if you wish.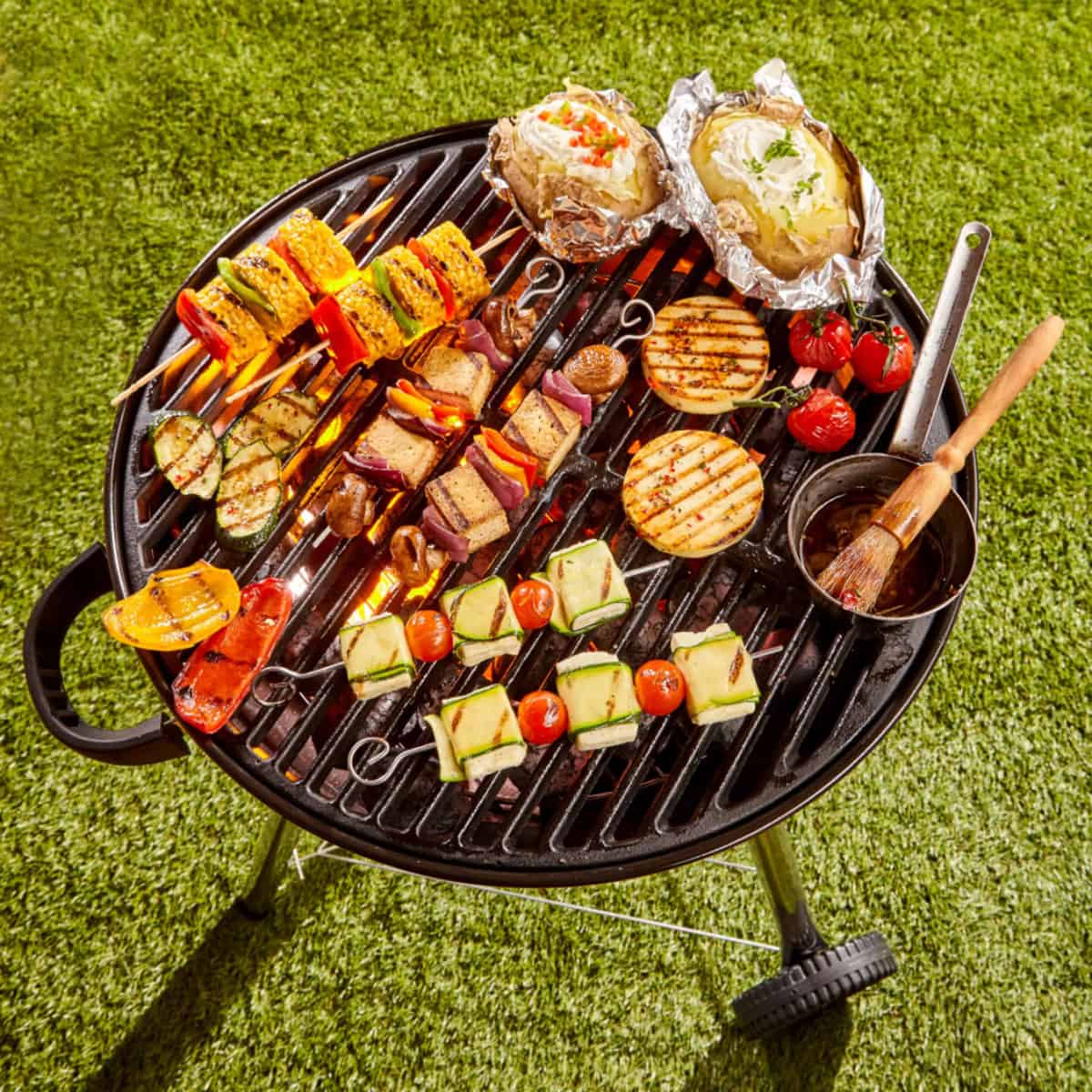 BBQ entree ideas
Need main dish ideas for your vegan BBQ? Here are a few of our faves:
Beyond Burgers – these store bought burgers make a vegan BBQ easy and convenient. They grill up to perfection and taste so much like the real deal, they will please even the biggest meat eaters. Beyond also makes brats.
More vegan recipe collections
Recipes: Vegan Side Dishes for a BBQ
Hummus and dips, fruits and salads, pasta and potatoes and so much more, if you need a delicious side dish for your next BBQ, potluck, or picnic, you'll find what you're looking for here! From classics gone vegan to creative new flavors you're sure to love these Vegan BBQ Side Dishes!