As an Amazon Associate I earn from qualifying purchases. Please see my Privacy Policy for more details.
Plant Based Kitchen Essentials List – small appliances, kitchen gadgets, and cookware to make creating delicious plant based meals easy and fun. Put these on your holiday wish list or buy them as gifts for your friends and family.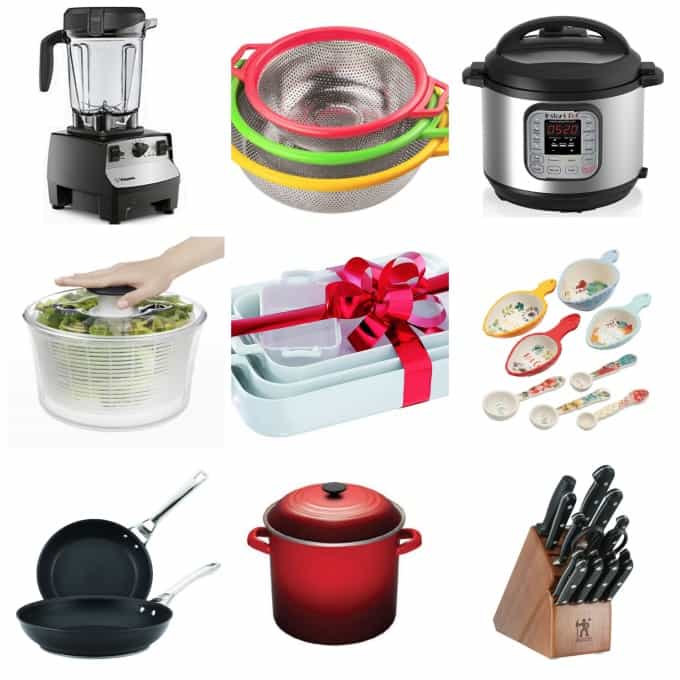 I know we still haven't celebrated Thanksgiving, but I'm already thinking of gift ideas for the people on my Christmas list. I'm making my own list too and, like always, you will find kitchen items on there. Some people might think getting a kitchen appliance for Christmas is incredibly unromantic and quite dull. I feel no such thing! I love to cook regardless, but the right cooking utensils, appliances and gadgets can make it so much easier to enjoy your time in kitchen.
Today, I'm giving you a Kitchen Essentials list of some of my favorite kitchen items. Most of them I already own and can 100% vouch for their wonderfulness. A few of them are on my wish list this year and while I can't say for certain how great they are because I've never actually used them, I feel pretty secure saying that I will love them too.
*This Plant Based Kitchen Essentials List contains affiliate links. If you make a purchase using one of these links, I will make a small commission at no additional cost to you.
Plant Based Kitchen Essentials List
Knife Block Set
My number one recommendation for a plant based kitchen would be a knife block set. If veggies, fruits and nuts are going to be staples of your diet, you need a quality way to julienne, dice and chop them. There are plenty of gadgets out there to help you in this area too, but I much prefer to just use a knife!
A lot of people will say you need a top quality (read: expensive) knife set to last a lifetime. While that is not a bad idea, I will admit that I bought my first knife set at Ikea of all places and it lasted about 10 years. As long as you keep them sharpened (easy to do with the included knife sharpener) I think you will be good to go.
If you want to go with the best, Wusthof
is a good choice.
If you want to save some $$, I suggest J.A. HENCKELS
. This is the brand I currently use and I love them.
High Speed Blender
I use my high speed blender almost every day. You can make so many yummy things in it. Sauces, spreads, dressings, soups, smoothies (try my award winning Probiotic Pumpkin Pear Smoothie), ice cream, nut butter, dips, etc. A high speed blender is so versatile. You will not be sorry if you get one!
The Vitamix Professional Series 500 Blender
is the one I have. I was lucky enough to purchase it used from a friend for less than half the price.
You can also find a refurbished one on Amazon for much less $: Vitamix Certified Reconditioned Standard Blender
.
I have also heard great things about the Blendtec Total Blender
.
Food Processor
Another appliance that I use nearly every day in my kitchen is the food processor. I have the Cuisinart 14-Cup Food Processor
. In addition to making nut butter, sauces, spreads, dips, dough and banana "ice cream" (like my Creamy Dairy Free Chocolate Ice Cream), I use it to easily combine ingredients for veggie burgers, grind oats and other grains into flour, and shred veggies (like for my Veggie Potato Fritters) in seconds. Truly a handy kitchen appliance to have!
Salad Spinner
Admittedly, this one takes up a bit of space and really only has one use. But, if you eat a lot of salad and greens, it's great for easily rinsing and spinning them dry. Plus, the kids love to get in on the action by pressing the top and seeing how much water they can spin out. We use our salad spinner several times a week at least, so it's definitely worth it.
Immersion Blender
If you have a blender, you don't technically need an immersion blender. However, I do use mine all the time. If I want to puree some, or even all, of a soup I have cooking in a big soup pot on the stove (like my Butternut Squash Apple Soup), it's much easier to get out this small tool then to transfer all of that hot liquid to a large blender batch by batch and then pour it back into the soup pot.
I also used my immersion blender often when I made baby food for all three of my kids. I would steam the fruits/veggies on the stove and then use the immersion blender to puree them right in the same pot.
A lot of them come with several accessories like a whisk and a blending cup, but, personally, I don't think you need those. I would stick with an inexpensive basic model like the Proctor-Silex Hand Blender
. It's the one I use and I've had it for over 12 years!
Big Stock Pot
A large capacity stock pot is also a good idea. Obviously, you can use it to make large batches of veggie broth or soup (which freeze really well if you have leftovers), but it's also great when making pasta. To cook pasta correctly, you need a lot of water and a lot of space for the noodles. One of the biggest problems people have with pasta is that it turns out gummy or sticks together…this is most likely due to not enough space and water while your noodles are cooking. Get yourself a big stock pot!
I have this Le Creuset Stock Pot
and I love it! It comes in a variety of colors so you'll be sure to find one to suit your decor as well.
Non Stick Skillets
I LOVE my non stick skillets for making pancakes (like my Healthy Whole Wheat Flax Pancakes), quesadillas, veggie burgers, etc. I got them for Christmas last year. What I love most is that you don't need any oil. A lot of people seem to be moving toward the trend of cooking with no oil, so these skillets should be on your wish list! They truly are non stick and clean up is a breeze! You can get a whole set with different size pots and pans, but these Circulon Nonstick Skillets
are my favorite.
Instant Pot
I got an Instant Pot several years ago and it quickly became one of my most loved kitchen appliances. It performs 7 different functions (pressure cooker, slow cooker, rice cooker, yogurt maker, steamer, sauté, and warmer) which means this one pot can replace several of your other appliances saving space in your kitchen. It's easy to use and easy to clean. I love mine so much I also bought one for my mom! Try this my Instant Pot Vegan Split Pea Soup for a delicious, comforting, yet easy, dinner!
Slow Cooker
If I didn't convince you that you need an Instant Pot, then at least consider a slow cooker, because let's face it, even the most enthusiast cook sometimes wants a day off from preparing food. Throw everything in the slow cooker in the morning and serve up an amazing meal (like my Slow Cooker Red Lentil Stew with Chickpeas and Orzo) come dinner time.
I got rid of mine after I bought an Instant Pot, but I loved this Crock Pot Programmable Cook & Carry Slow Cooker
. This is especially handy if you take your slow cooker full of deliciousness to parties and holidays – the locking lid will ensure that everything stays put inside with no leaking.
Casserole Dishes
Every kitchen needs a few casserole dishes. Holidays beg for casseroles on the table, am I right? A large size is perfect for lasagnas, roasting veggies or casseroles. A smaller size is ideal for brownies (or my Cinnamon Chickpea Blondies), homemade granola bars, cornbread, or layered taco dip. The possibilities are endless. These Le Creuset Stoneware Rectangular Bakers
would be the perfect choice. I have used them for years and they come in a variety of colors.
I also am in love with my Revol bakeware. I won a gift card to Revol when my Chai Spiced Pumpkin Layer Cake won Reader Favorite and this is what I bought. I love how simple, yet elegant it looks and it cleans up beautifully!
Colander Set
Another item I use in the kitchen nearly every day is a colander. A large one is great for draining pasta, a medium one is useful for rinsing grains, and a small one is perfectly kid-friendly for rinsing berries or grapes. There are plenty of choices out there, but make sure to find one with holes small enough so that grains and spaghetti noodles don't fall through. This set is useful, BPA free, and colorful.
Coffee Pot
This Cuisinart 12-Cup Coffee Pot has a built in grinder to ensure perfectly fresh coffee every time. There is an option to turn the grinder off if you're using pre-ground coffee. It's easy to use, digital, and fully programmable. I love waking up to the aroma of freshly brewed coffee wafting up the stairs. Good morning! Compared to many Grind & Brew coffee pots, this one won't break the bank.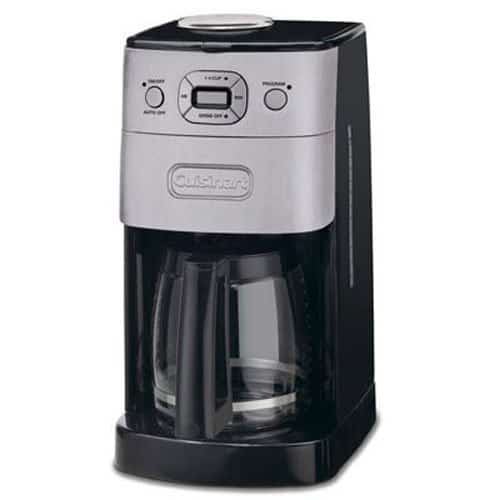 Small coffee grinder
I have the coffee maker, above, with a built in grinder, but a small coffee grinder is a great idea for grinding small batches of nuts, seeds or grains. Of course, it's great for grinding coffee, too, if you don't have a coffee maker with the capability to grind and brew. I have the Cuisinart Grind Central Coffee Grinder
and I love that the inner bowl is removable for easy cleaning.
Glass jars w/ lids
Glass jars with lids are incredibly versatile and will last a lifetime. I use them in the fridge to store homemade nut butters, overnight oats, homemade salad dressings (like my Creamy Cumin Ranch Dressing), pasta sauces and pestos. I also use them in the panty to store dried beans, grains, dried fruit, fresh nuts and seeds and homemade flours (for ex: from oats or almonds). There are so many different ones to choose from, but these vintage blue Ball Jars with Lids
look so pretty. They come in pint and quart sizes.
Measuring Cups and Spoons
Of course anyone who cooks or bakes on a regular basis must have measuring cups and spoons.
My favorite for liquids is this OXO Good Grips 3-Piece Angled Measuring Cup Set
.
My favorite for sticky ingredients is this OXO Good Grips Adjustable Measuring Cup. I bet you didn't even know you needed a different cup for your sticky ingredients. Truth is, you don't, but you will LOVE this if you have it. It's perfect for maple syrup, molasses, and nut butters. You fill it with your ingredient and then push up the bottom so you can scrape it ALL right off into your bowl/pot/whatever. In a regular measuring cup you are sure to leave some behind.
Measuring spoons and cups for dry ingredients are all pretty much the same if you ask me, but I'm kind of obsessed with collecting pretty ones. I have 4 sets of spoons that I can think of off the top of my head. Currently, I'm loving this 8 piece set from The Pioneer Woman. If florals aren't you're thing, maybe you'll prefer these cute gray kitties or maybe just a basic stainless steel set.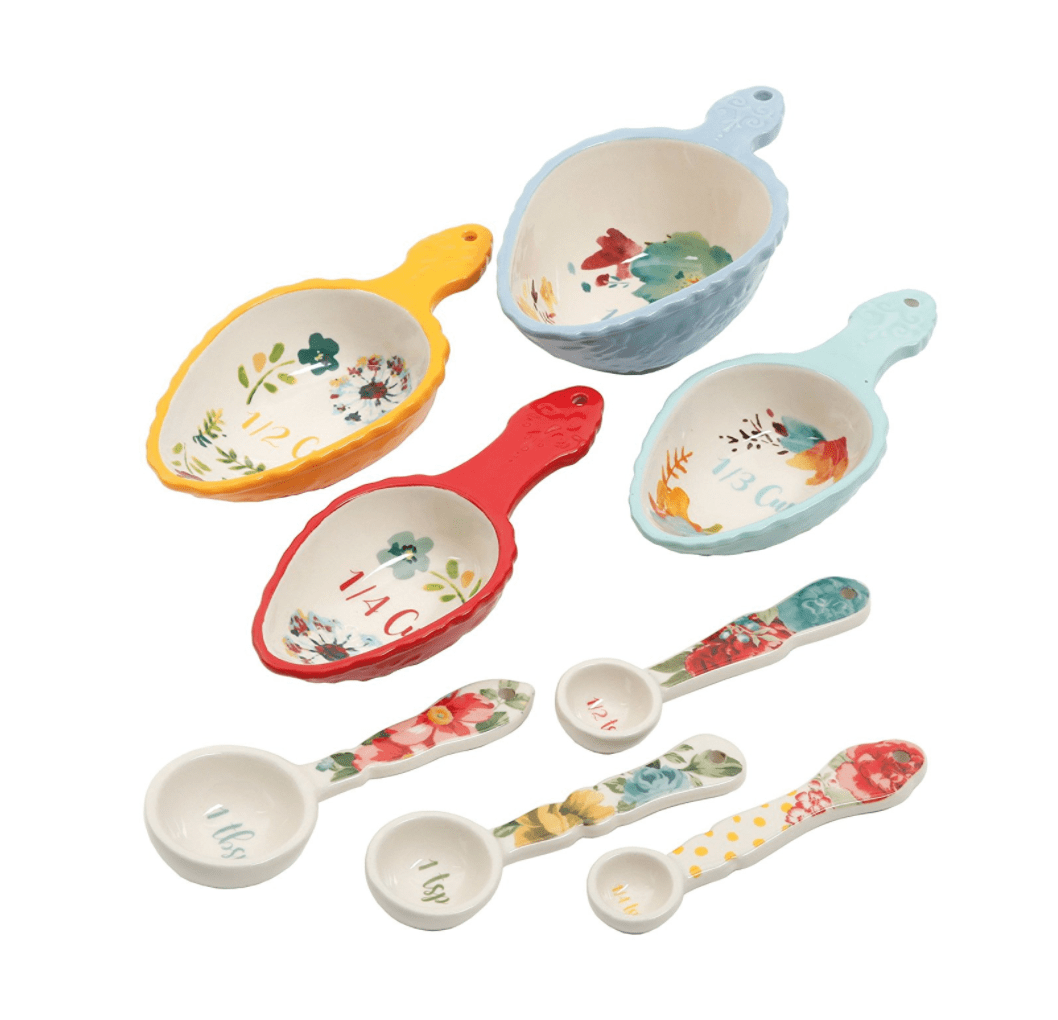 Gorgeous Dishes
Pretty dishes may not be a necessity, but we eat with our eyes first, and food looks better on pretty plates! Therefore, it goes on my Kitchen Essentials List!
This handmade dinnerware is both functional and beautiful. I go into greater detail about it in this post, but here are a few reasons you'll love it:
Microwave, Oven, and Dishwasher Safe
Cups & plates designed to stack easily in your cabinets
Bottoms of all pieces sanded & hand polished to ensure they don't scratch your table
Ergonomic handles on call cups/mugs
There are several sizes and colors of plates, cups, and bowls. There are also pitchers, berry bowls, and vases. Grab one or grab a set! Bonus: Use code "veggie" for a 10% discount!
Meatless Monday Family Cookbook
What kitchen is complete without a cookbook you can turn to time and time again? My cookbook, The Meatless Monday Family Cookbook, has over 100 delicious and easy plant based lunch/dinner recipes the whole family will love! It even contain tips and tricks to get your kids involved in the kitchen and cooking process with you.
Juicer
This kitchen appliance is only a necessity if you like fresh juice, like my Spicy Tomato Juice. This Breville Juice Fountain
is the one I have and I absolutely love it! It makes quick work of fruits and veggies and it's really easy to clean as well.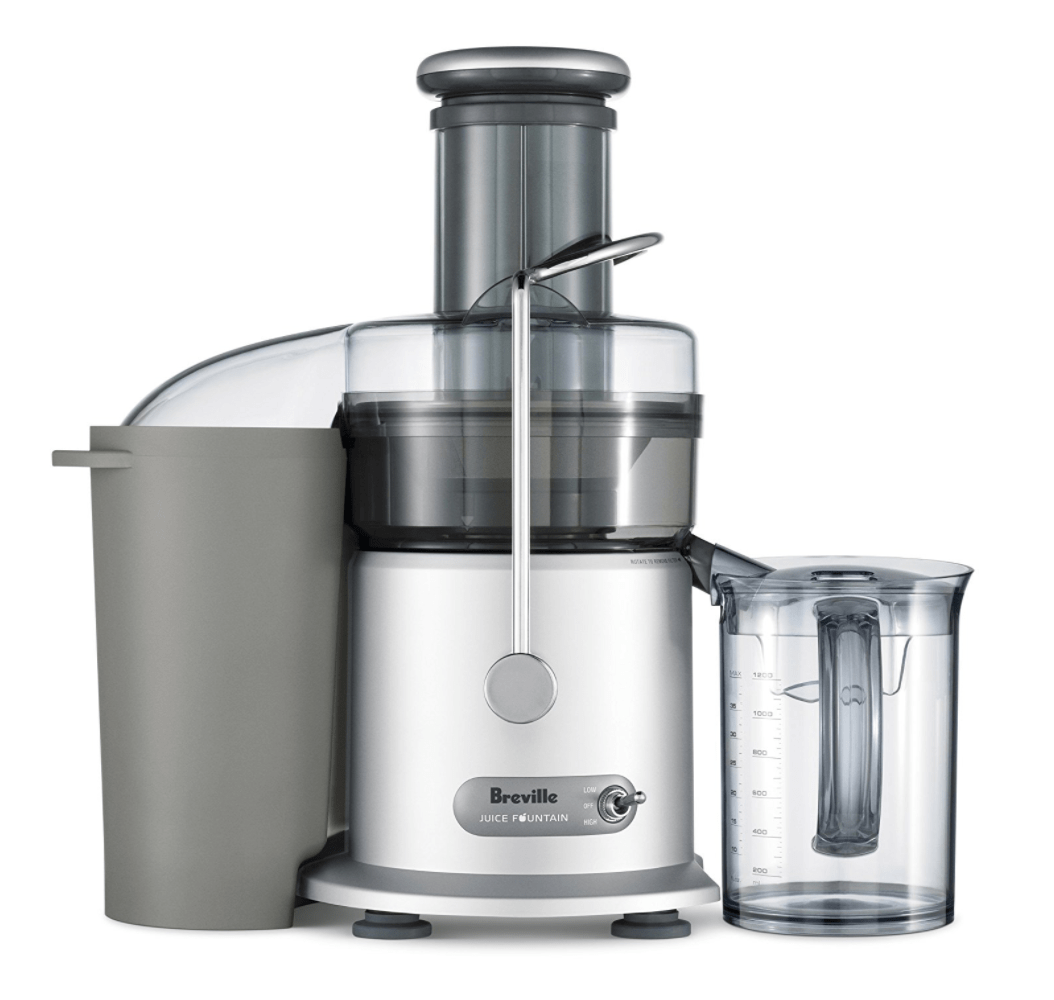 You can also get a Refurbished Breville Juice Fountain
for much less $.
Kids Cutlery
Ok, obviously, you can walk into just about any store and buy some inexpensive kids cutlery, but I actually do have a preference here. I randomly found these kids utensils and plates/bowls at Ikea one day and I bought them on a whim. I love them…and so do the kids. They are BPA free, dishwasher safe and inexpensive. Perfect for serving up this kid friendly, and reader favorite, Dairy Free Mac and Cheese!
IKEA Kids Plastic Flatware, Bowl, Plate, Tumbler Set
DustBuster
Last, but not least on the kitchen essentials list, you are going to need something to easily clean up all those messes you are going to be making in your fabulous plant based kitchen. I could not live without my DustBuster and yes I did ask for this one Christmas and was super excited when I received it!
Black & Decker Dustbuster Cordless Hand Vacuum
As much as I love my DustBuster, sometimes the entire kitchen floor is full of crumbs (#momlife) and I need to break out the big guns. That's where this Dyson Cordless Vac comes in handy. It's lightweight and versatile, able to suction on any type of flooring. It makes quick work of any mess!
Of course, there are many more items that I could put on my Plant Based Kitchen Essentials list…baking sheets, pizza stone, donut pan, waffle maker, teapot, etc., but this list is a great start! Did I forget any of your favorites? Will you be putting any of these on your wish list this year?
*Post content updated September 2019. Original posted November 2014.