As an Amazon Associate I earn from qualifying purchases. Please see my Privacy Policy for more details.
Start your day off right with a nutritious meal full of vitamins and minerals, protein, carbs, and healthy fats. There are so many options to choose from. Here are 7 of our favorite Plant Based Breakfast Recipes.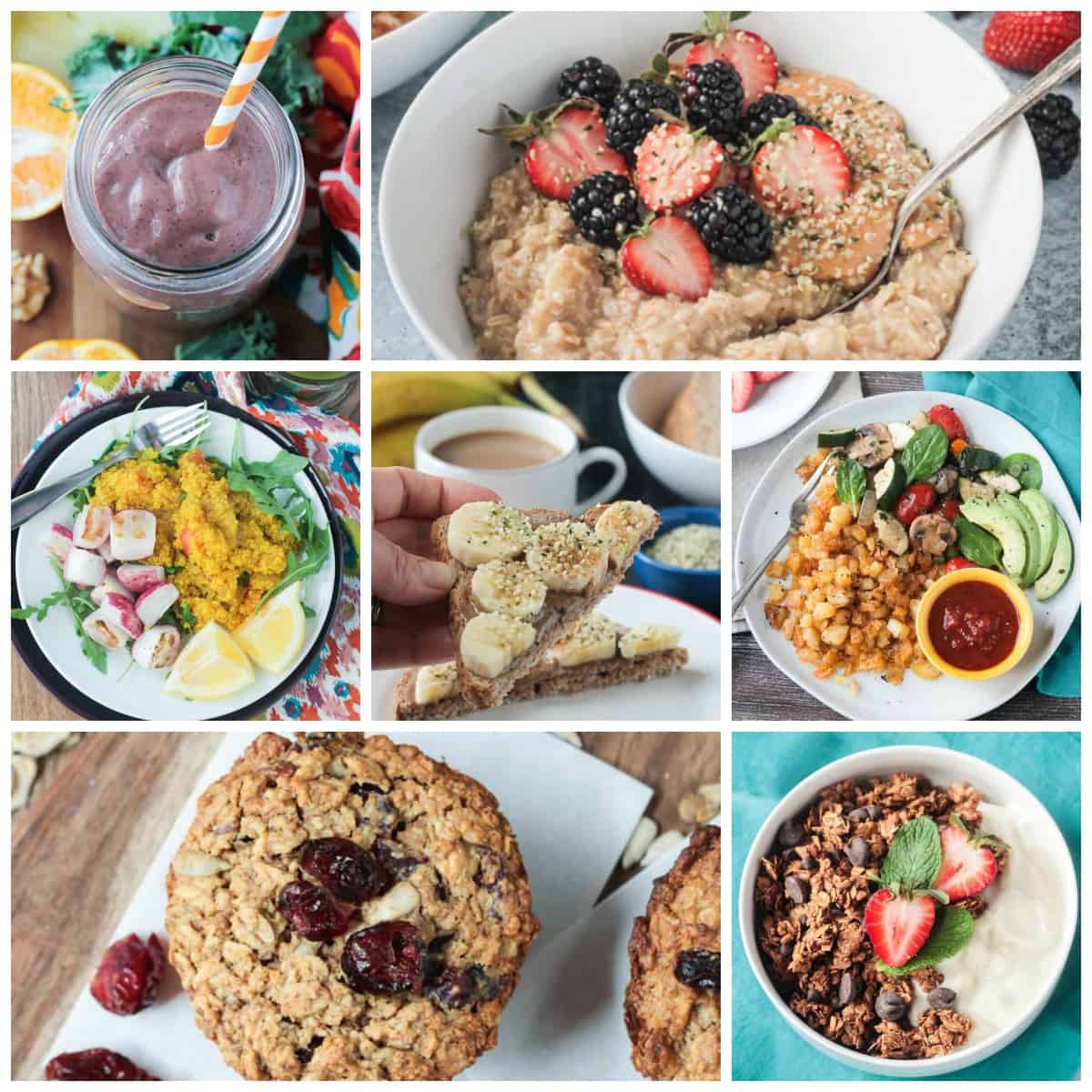 They say breakfast is the most important meal of the day, so fuel up to keep you energized through your morning. From sweet to savory, there is something for everyone.
What do you eat for breakfast on a vegan diet?
Vegans don't eat any animal products, so traditional American breakfast fare, like bacon, sausage, and eggs, are out! BUT, there are so many yummy options to choose from!
From sweet options like pancakes and donuts, smoothies and smoothie bowls, muffins and quick breads, granola and granola bars, to savory options like breakfast nachos and tofu scramble, it's easy to find a recipe to start your day!
The following plant based breakfast recipes will help get you started and power you through your day.
Breakfast FAQs
Why is breakfast the most important meal of the day?
Honestly, the jury is still out on this one. Is breakfast the most important meal of the day? Maybe, maybe not. You can find numerous research articles online to support both views. Here are the reasons that I find eating shortly after waking to be important:

*Nourishing your body will help you stay energized and focused – especially important if you're heading off to work or school. 
*Eating a healthy breakfast may set you up for a healthier day overall. This is definitely true for me.
*Fueling my body with nutritious food helps me drink less coffee. I love coffee but we all know that a lot of caffeine isn't great for us, and if I don't eat breakfast, I will drink coffee all morning long until lunchtime instead of enjoying just 1-2 cups.

Find out why a plant based diet is a healthy choice!
What happens if you skip breakfast?
I find on the days that I skip breakfast, I'm very hungry by the time lunch rolls around and I'm more apt to grab whatever is easiest, like a store-bought granola bar, cereal, or even chips. Not the best choices, obviously.

Skipping the morning meal also means less food throughout the day overall and less of a chance to get all the nutrients needed for optimal health. 
What is the best time to eat breakfast?
The best time to eat is within 2 hours of waking up. According to registered dietician, Theresa Shank, "Eating within this window sets the pace for a healthy appetite and stabilized blood sugars throughout the day,"
I hope you love these recipes as much as we do! If you try any of them, please leave a comment below with your feedback.

Be sure to sign up for my FREE Newsletter to be the first to get my NEW recipes! You can also follow me on Instagram, Facebook, and Pinterest.

For even more easy family recipes, be sure to check out my cookbook, The Meatless Monday Family Cookbook!
Plant Based Breakfast - 7 easy recipes
Breakfast is the most important meal of the day. Get your day started off right with these 7 easy vegan recipes!